The data or the structure in the configurator should be published before users can see them. This article explains how to do so.
How to create a release?
After the structure of your event is defined and the data is added, a release has to be created in order for users to be able to download this data in their app. If you make changes to your data later on, you can create a new release to disclose this data to your users.
Click Publish in the menu to go to the overview of releases. If you haven't made a release yet, this page will be empty. Click Create release in the toolbar to start a new release. A green window opens at the bottom right where you can see the progress of the release. Other users opening this configurator will also see this window, so they know the release is in progress. The more data you have, the longer creating a release will take. You can close the window to view the data in the configurator, but make sure that you don't edit it, as it will result in errors!
While a release is running, a blue icon is shown in the status column. If it is successfully published, it contains a green checkmark, if it has failed, it has a red icon with a cross.
How to install an update after the release?
Every once in a while, the app will check if there are new releases available. An update can be installed by taking one of the following actions.
For Mobile App:
Click on the profile icon on the top right. A button Update Now appears.
Pull down the news feed. A red dot appears right away on your profile icon, where you can Update Now. Or if you do not take any action, after some time the red dot will appear automatically.
On the web app, you can simply refresh the page or press Update Now once the toaster appears in the top-right corner.
Release failed? Check the logs!
If your release failed, you can check the logs. Click the green link to go directly to the object that has the error. If there are errors you don't know how to fix, contact your Customer Success Manager or Project Coordinator, and we'll help you out!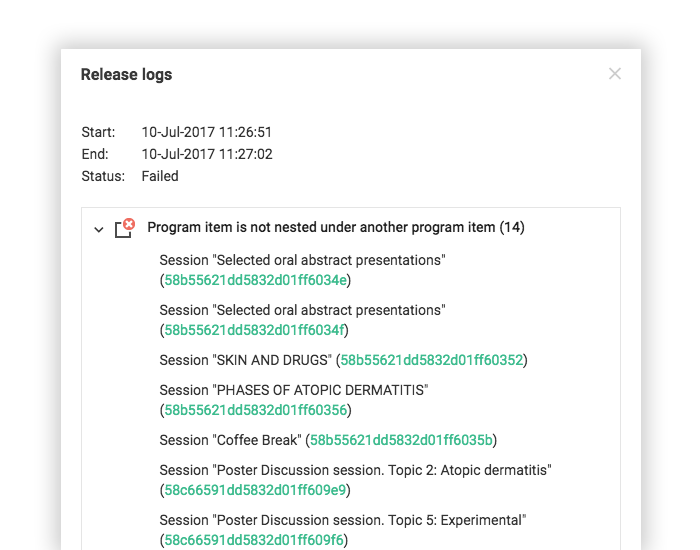 Change the release to use
If you want the app or the web app to use a specific release instead of the latest, go to the Settings, Advanced tab and select the Release to use below App updates.