This article explains how to get the beamer view from the moderator dashboard.
The beamer view can be shown to the audience at hybrid events. For example, when a virtual speaker is presenting through the platform or when you are presenting Vote and Q&A through the platform.
The beamer view is a URL called Presentation link, that can be copied from the settings on the moderator dashboard. The beamer view will contain the slides, the speaker video, the Q&A and the Vote (if enabled). You can decide to hide the number of votes submitted. You will then only see the percentages per answer option.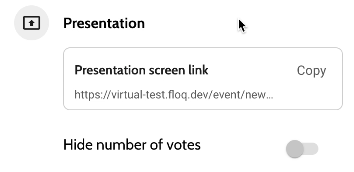 The beamer view is similar to the attendee dashboard for virtual attendees, but it doesn't show the sponsor banner, chat, and attendee list.