This article describes how you can enable a social feed to which your attendees can post messages or pictures, that others can like or comment on.
A social feed allows attendees to post messages and pictures on a dedicated page in the app. Users can respond to messages with likes and comments and can send personal messages to each other through profiles.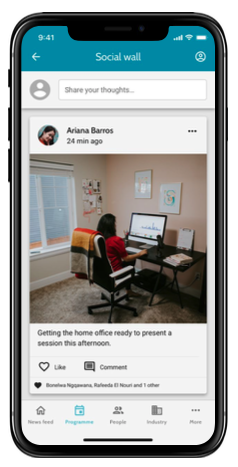 Adding a social feed to your event
You can add an attendee list to a navigation page (Pages & Structure > Pages > Navigation). Make sure to have the Layout set to Menu. On an item, choose Link type My Congress and select Event feed.

Moderating the social feed
Anyone with access to the event in Floq Studio can moderate the social feed. Only posts and comments that have been reported by the attendees can be reviewed and removed.
View and delete reported posts and comments
In the event on the left-hand menu click on 'Reported message'. Two tabs are available for moderating reported messages - Social Feed & Chat. Click on Social Feed.
Here you will see both the reported posts and comments. Select the comment or posts you would like to delete and click the Delete button.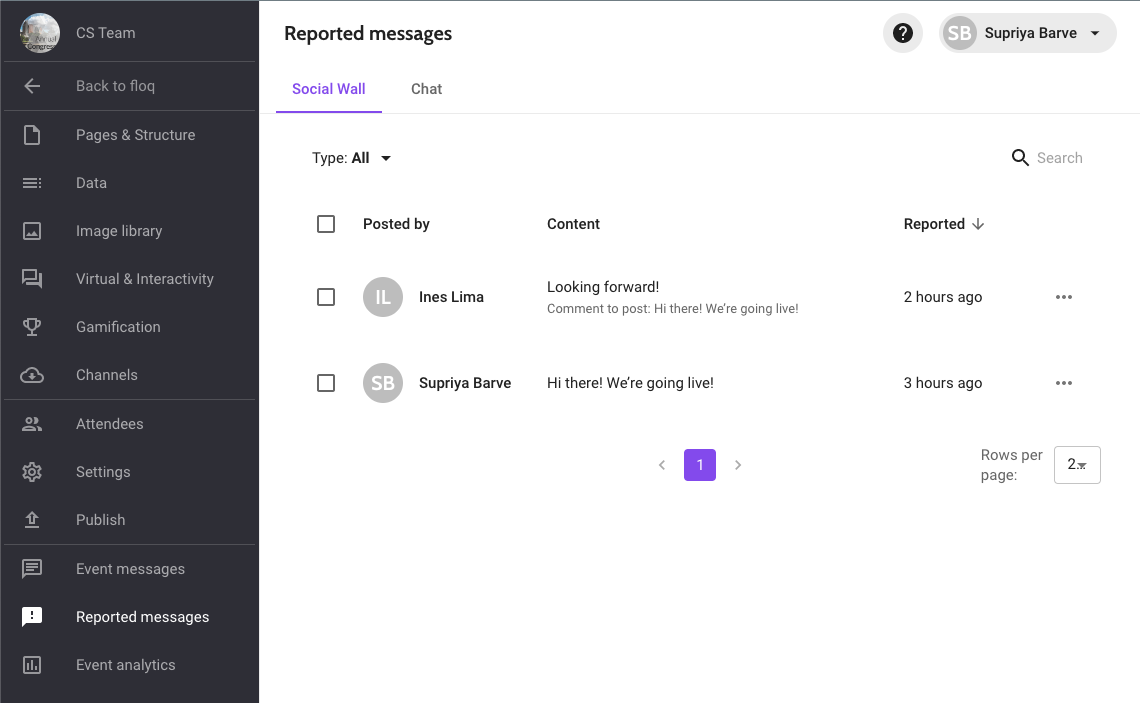 Please note that you can only remove posts or comments that were reported. Report it first to remove a post or comment that is not yet on the list. For posts, tap the ... menu at the top right of the post and select Report this post. Comments can be reported by long pressing them and choosing Report this comment.
View, block and delete reported users
Reported users can be found in the CMS, on the Attendee list in an event or on the Community list at the society level. Below Status, choose Reported to see all reported users at one glance.
There are two actions you can take:
Block: This will sign out the user and prevent her from signing in again. Posts or messages that have been written by this user, will not be deleted. You can unblock the user at any time.
Delete: when deleting a user, their account and all associated data, such as their favourites or chat messages will be deleted.
Please note that you can only block or delete users that were reported. To report a user, tap the ... menu at the top right of the user profile and select Report this user.