This article describes how you can encourage discussion about the session or presentation by allowing participants to chat about it.
Enable session chat
Chat can be added with one setting to all program items of the same type. To do so, go to Virtual & Interactivity, Features, and click to turn on Chat for the type(s) you want to enable.

After creating a release, a card is added to the Interactive tab. It shows the last two messages in the conversation or a text that a chat can be started when there are no messages yet.

Moderating the chat
Anyone with access to the event in Floq Studio can moderate the chat. Only messages that the attendees have reported can be reviewed and removed.
View and delete reported messages
In the event on the left-hand menu click on Reported message. Two tabs are available for moderating reported messages - Social Wall & Chat. Click on Chat.
Select the reported message(s) that you wish to delete and click on the Delete button that appears below.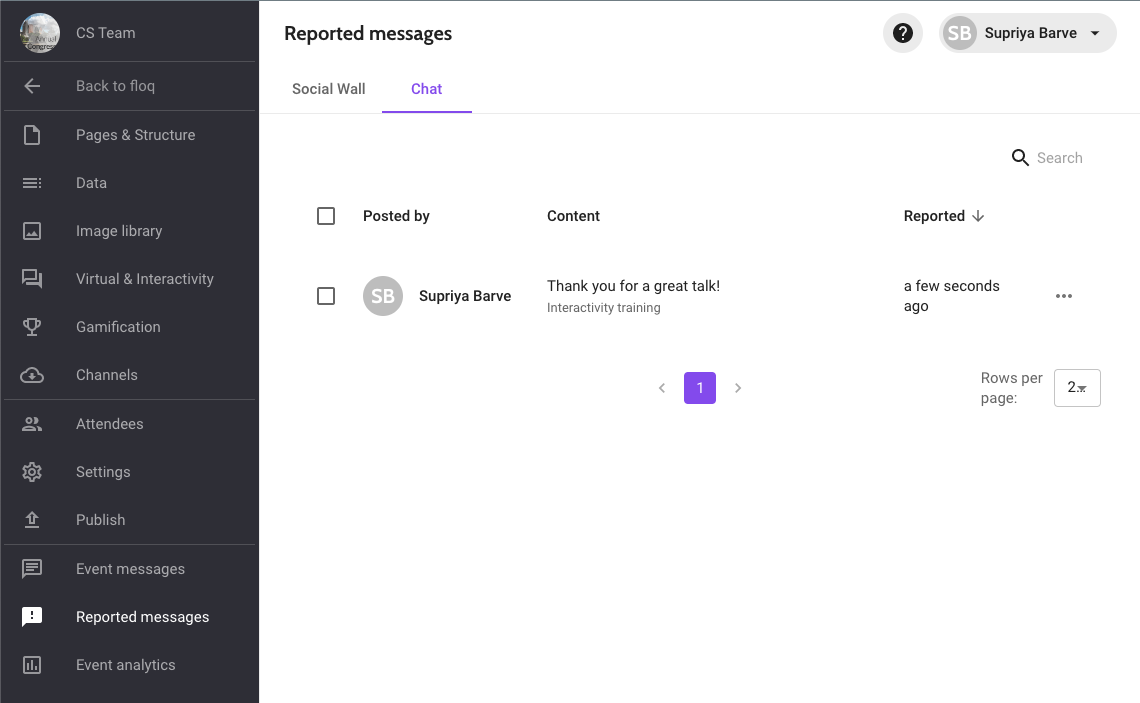 Please note that you can only remove messages that were reported. To remove a message that is not yet in the list, report it by long pressing it and selecting Report this message.
View and block or delete reported users
Reported users can be found in Floq Studio, on the Attendee list at an event or on the Community list at the society level. Below Status, choose Reported to see all reported users at one glance.
There are two actions you can take:
Block: This will sign out the user and prevent her from signing in again. Posts or messages that have been written by this user, will not be deleted. You can unblock the user at any time.
Delete: when deleting a user, their account and all associated data, such as their favourites or chat messages will be deleted.
Please note that you can only block or delete users that were reported. To report a user, tap the ... menu at the top right of the user profile and select Report this user.