This article explains how to add a section with links to data items and how to configure these links to display icons
Below program items, posters, persons, institutions and classifiers, you can create a section for links to external websites, PDFs or email addresses. Optionally, you can display a select number of icons before these links.
Creating a links section
In Pages & Structure, tab Data Structures, create a Link type – for example External links or Send email. Check Display media icons to display icons before the link. The icon that is displayed is based upon the selected link type you will add in the data.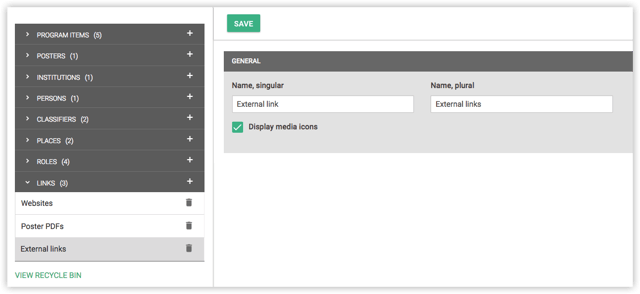 In the program item type you wish to add these icons to, for example Sessions, add a new section with the category Related and the type Links > External links.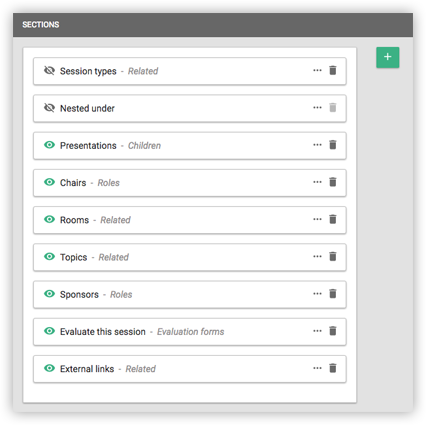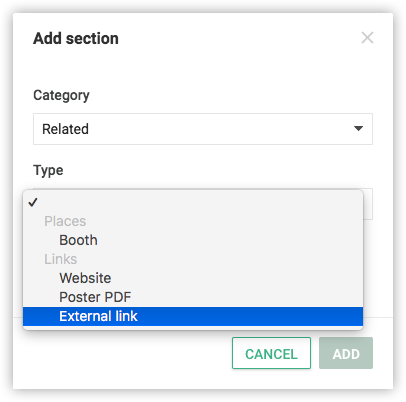 Adding links
To an external website
At the bottom of the detail page of the item you wish to add the links, there will now be a section where the individual links can be added. Click Add link to begin and add the link name and URL in the designated fields. If the Display media icons option has been enabled in the Data Structures, select the desired Media type from the dropdown menu.

Tip! If you want the link to open in the external browser instead of within the app, add ?openlinkType=external to the end of the URL.
To a PDF
You can upload a PDF by clicking Add document. In order for the PDF to be displayed correctly on both Android and iOS, make sure to choose the Media type PDF.

To an email address
When adding an email address, make sure add it like: mailto://email@example.com. When a user clicks this link in the app, their email app is opened, where the email address is filled in for a new email.
Media types
The following media types are available:
PDF - this option ensures PDFs open correctly on all devices

Webpage

Ask

Evaluation

Like

Interactive

Mail

ePoster

ePoster (PDF) - this option ensures PDFs open correctly on all devices

Voting
Leaving the Media type blank will result in no icon being shown.